Catalyst design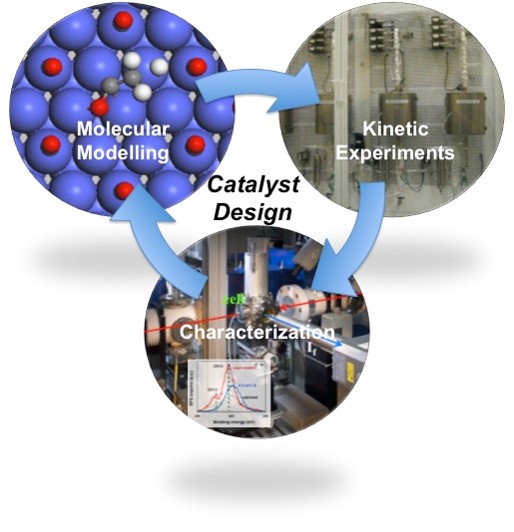 Catalysis plays a key role in the conversion of fossil and renewable feedstock to high value products. The production of clean transportation fuels, of bulk and fine chemicals, and the prevention and abatement of pollution would be impossible without catalytic processes. Catalysts facilitate the formation of the desired products by selectively opening up new, energetically favourable, reaction routes. The ultimate goal for catalysis research is to design active, stable and selective catalysts.
In this research theme, we combine molecular modeling, advanced catalyst characterization, novel synthesis methods, state-of-the-art kinetic testing and microkinetic modeling to develop innovative catalytic processes up to industrial scale. To achieve breakthroughs in catalyst design, catalytic reaction mechanisms are understood and controlled at the scale of the active sites, the molecular scale. To be also industrially relevant, the mechanistic insights and design strategies are translated to and validated at the reactor scale. The close coupling between catalyst design and reactor development additionally stimulates research towards breakthrough synergies.
Our key research questions:
What is the structure/nature of the active catalyst under reaction conditions?
How do promotors enhance catalyst activity and selectivity?
Can we develop design rules to control catalyst performance?
What is the effect of a realistic feedstock on catalyst performance?
How does the reactor choice influence the selection of optimal catalysts?
The following topics are part of the Catalyst design research theme: